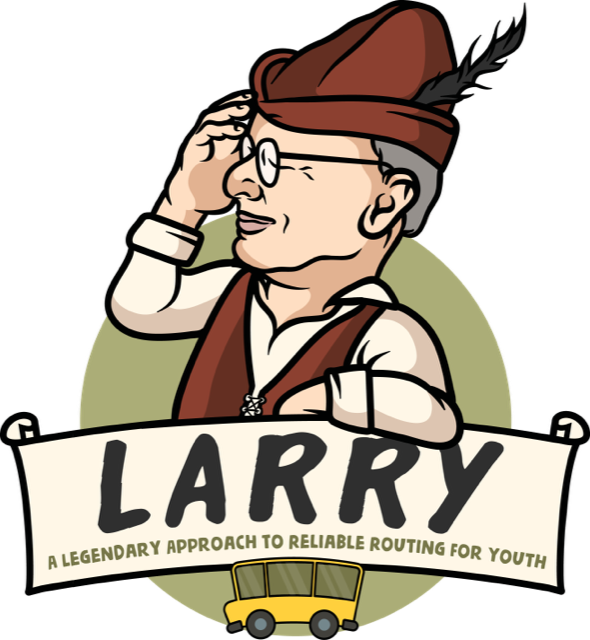 For more than 50 years, Robin Hood families have come to rely on our commitment to a safe, efficient and fun bus experience.  It all started with Larry Bell,  who, over the course of his camp career, became a leader, North America-wide, for the systems he created to provide great transportation services to and from camp each day. 
We've just always felt that the impression we are making on our families – most importantly your kids! – begins as soon as that bus pulls up in the morning.  And we've learned that a sense of organization and calm are two important feelings that set campers up for a successful day. That's why we are excited to announce the launch of our Mobile App, LARRY: A Legendary Approach to Reliable Routing for Youth!
WHAT DOES IT DO? 
For the last two summers, Robin, our Transportation Director has been using LARRY to create the most optimal routes for our busses.  And now, in 2022, we will be bringing the power of LARRY to parents and our bus counsellors! The main function of the LARRY APP will be to give our bus counsellors a tool to keep even better track of who is getting on and off their bus. And once a camper is picked up in the morning or dropped off in the afternoon, the families at the next two stops will be automatically notified in the app! Even though you'll already know when to expect the bus approximately, you'll now have 2 further notifications that the bus has nearly arrived.
ONCE DOWNLOADED, DO THE FOLLOWING:
Agree to all notifications

Verify that your registered campers appear 
THAT'S IT!
For technical support email transportation@camprobinhood.ca