Thank you for choosing Camp Robin Hood for your child's day camp experience this summer. We've been working hard preparing for camp all year long to make every day at Camp Robin Hood super-fun and super-memorable. As we approach the summer, we'd like to help you and your family prepare as well! 
In this Parent Information Guide, we've included all of the information to help you and your family get ready and excited for camp. Whether this is your first year as a member of our camp family or you are a seasoned veteran, information is updated each year, so we would love for you to review it at your convenience. To explore our Parent Information Guide, simply scroll through this page or click the boxes below to read about specific items.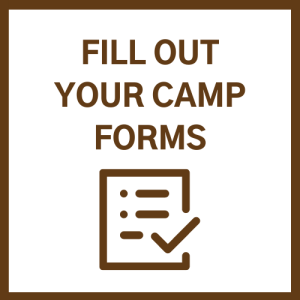 Having the most up-to-date information about your child is a vital component to a successful Robin Hood experience. You know your child best and we want to hear from you! Please complete your camper's online health form and swim form (a google link below) as soon as possible. Note: Both the Health and Swim forms are one per child.
To access these forms, please click the links below to log into the registration portal and use the same username and password that you used to fill out your camper's application.
Don't have all the information you need to complete the forms? You can always update your information later. It's best to submit your forms with the information you have on hand ASAP. To update us on any changes to your swim or health information, you can e-mail or call us anytime!
Well, we actually work hard to make every day at Camp Robin Hood anything but typical! Our well-trained staff are enthusiastically capable of showing your child an awesome day, every day!
There is certainly a routine at camp. Campers at Camp Robin Hood and Robin Hood Sports Academy are organized in 'cabins'. 'Cabins' are supervised by at least 2 staff. Cabin size varies based on age and our supervision ratios are always enhanced at our program activities as we provide activity counsellors who facilitate and provide instruction to our cabin groups.
Here is a breakdown of our age groups (divisions) at camp:
Camp Robin Hood is known for our wide variety of amazing activities at traditional camp and up at Robin Hood Sports Academy. This is where much of the fun, engagement, friendships and learning takes place! Each cabin group follows a weekly schedule, action-packed with activity programs, lunch, flagpoles and more! 
Check out your camper's weekly schedule by visiting this link! PRO PARENT TIP: Use the schedule as a great conversation starter with your campers when they say they've done "nothing" at camp (LOL!)
In addition to the activities that campers experience daily, we have a Camp-Wide Program every second Thursday of a session. On these days, cabin groups follow a special schedule. These are days where we get to show off our awesome camp spirit! Have a look at our summer calendar to see which ones are coming up during your camper's time with us!
Dress Up Days are meant to kick off our days with Camp Robin Hood spirit! We recommend all campers, arriving on a bus or in a car, dress up according to our 'Dress Up Day' themes. Families are encouraged to send a change of clothes that are weather-appropriate for your camper to change into for the rest of the day as needed.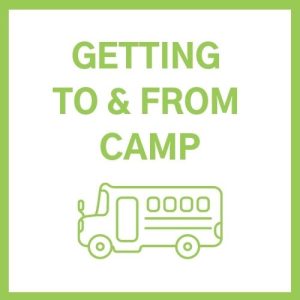 We are committed to SAFE, FUN and EFFICIENT summer camp transportation. We work closely with our bus company, Landmark Bus Lines, to ensure the best bus experience for our campers.
Whether you have selected Door-to-Door or Neighbourhood service, rest assured that our Transportation Director Robin Perlmutter and her team work hard to make this part of the camp day as easy and fun as possible. Prior to each session, you can expect to receive confirmation of your child's bus number and the names of their bus counsellors and bus driver. We also provide a window of time when our bus should arrive at your stop in the morning and at the end of the day. These "estimations" become more concrete within a few days of each session as the bus driver gets familiar with the route and traffic patterns. Even if you have elected to drive your child to camp, our transportation team will provide lots of details of our pick-up and drop-off process prior to you family's start of camp.
Each bus is driven by a professional bus driver who has not only been trained by the bus company but also participates in our Robin Hood bus training so that they are aware of how we provide transportation services at camp. We assign bus counsellors to each bus and their duties are to provide supervision and programming while our buses are on the road to and from camp. We are in communication with each of our buses and have the ability, in our office, to track our buses via GPS should the need arise.
Here is an overview of our bus service: 
Door-to-Door & Neighbourhood
Morning pick ups between 8am–8:40am

Buses depart camp at 4pm

Afternoon drop offs between 4:30pm–5:10pm

All buses remain on site until camper attendance is complete and confirmed
Driving to Camp
Arrive between 8:45am–9:15am (enter Gate D*). Please follow our staffs' directions to safely unload your camper(s)

End of Day Pick-up: 4pm (enter Gate D*)

Families will be greeted by a member of our team to help make the process as smooth as possible. Our goal is to have parents remain in their vehicle – let us do the rest!
*Gate D is our northernmost entrance past the roadside baseball diamond
Picking up your child during the day
If you wish to pick up your camper, we must have your WRITTEN request by 12pm at the latest. You can email (transportation@camprobinhood.ca) or send us a bus note. Please be sure to include the day for pick up, camper's name and time you will be arriving. If you have arranged for someone else to pick up your child please let us know that in your written request too. We do our very best to have your child packed and ready. Be sure to park at our small parking area at Gate A and call the camp office at 416 736 4443 and we will be happy to bring your child to you.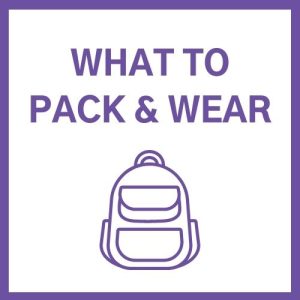 We are so happy to provide all campers with their very own CRH backpack. On your camper's first day of camp, please send them with a backpack from home, then your camper will be sent home with a new CRH one. Our backpacks have lots of room and are well-labeled, and even have a handy pouch for wet bathing suits!
Our Camp Robin Hood backpacks can fit lots, here's what we recommend packing on a daily basis:
1 bathing suit (please send your child in a bathing suit under their clothes in the morning)

1 pair of shorts and underwear

Hat

Reusable water bottle

Lunch (if providing)

Pool shoes (optional)

Mask (great to store these in your camper's front pocket)

Sweatshirt

Raincoat

Eyeglasses case (if required)

Earplugs (if required)
We've been doing this for a long time, and are happy to share some recommendations and advice about what to wear and pack at camp:
Washable, inexpensive clothing: We're all about experiencing the outdoors at camp, so please do NOT send clothing that may upset you and/or your child if for some reason it gets dirty, accidentally damaged or goes missing. Leave other expensive belongings and toys at home – we have lots of stuff to keep your child busy!!
Towel Service: We're happy to reduce the weight of the backpacks and your laundry load at home by providing towels for all campers. There's no need to pack a towel for your child. We will ensure that your camper receives a fresh towel for each swim.
Label all items: Label everything with first name and last name! Our staff work very hard to help your child return home with all the items you send to camp. Please help us out by labeling your camper's clothing and belongings with their first and last name. This makes returning any lost items that much easier. We have found that a good ole' fashioned "sharpie" does the trick.
Wear a Hat: We are committed to help campers and staff protect themselves from the sun. We recommend all campers wear a labelled hat daily at camp.
Dress for the Weather: Our unique location in Markham is susceptible to changing weather conditions, so we recommend that you pack a few items for your child that will allow them to be comfortable regardless of what Mother Nature sends our way. We also recommend checking the weather daily. It's always a great idea to pack boots and a raincoat on those rainy days and warmer clothes on the cooler days. If the day does start out cool, please pack an appropriate change of clothes, as even on our coolest days, a t-shirt and shorts should be worn or packed.
Leave the Sunscreen at Camp: We ask that you apply sunscreen (rain or shine) on your child before they travel to camp each morning. On the first day of camp, please provide a (well-labeled) sunscreen bottle that can be kept in the cabin and re-applied at designated times during the day. Our staff are trained on the various age appropriate ways to assist campers with putting on more sunscreen. You will be contacted if your camper needs a sunscreen re-fill.
Footwear: Running shoes and socks are preferred over sandals/open-toe shoes to allow our campers to partake safely in all of our activities. 
Extra Clothes at Camp: For our youngest (Munchies) campers attending camp, we recommend that you send a bag with extra clothes (labelled 'FIRST NAME, LAST NAME – EXTRA CLOTHES). We will store this bag in the cabin at camp just in case these items are needed.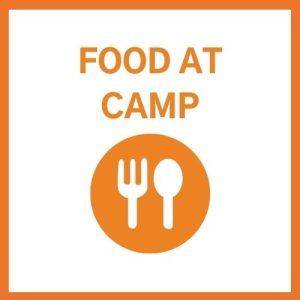 When we're having fun outside all day, every day, it takes lots of energy! It's important that campers are well-fed and hydrated, which starts with providing your camper with a great breakfast so they can start their day right. Please review the following details about all things 'food' at Camp Robin Hood. 
Daily Snack: Each camper will receive a daily snack/treat that is individually packaged in single serve portions. We encourage families to send along additional snacks as our staff will allow for campers to have "snack breaks" throughout the day. 
Nut-Aware Facility: All food prepared / provided by Camp Robin Hood is nut-free. We ask that families read product labels and encourage you to not send any food or personal care items which may contain or contain nuts. Please make sure your child washes their hands and face well before getting on the bus or in your car.
Water at Camp: Keeping our campers hydrated throughout the day is a priority. We recommend that each camper bring their own well-labeled water bottle from home for refilling throughout the day. There will be plenty of water stations around camp. If your child enjoys nut products or peanut butter for breakfast please make sure they wash their face and hands thoroughly before coming to camp. 
Lunch: Campers eat lunch outside in a shaded area with their cabin group. Counsellors monitor the cabin group throughout the lunch period, and safe eating procedures are enforced, including handwashing before and after eating. Juice is provided daily to campers with their lunch.
Kids Kitchen – Optional Lunch Program: For families that would prefer another option for their camper's lunch, we use Kids Kitchen as our service provider. Kids Kitchen provides flexible ordering and a wide variety of menu items (including hot lunch items, sides and snacks). To order from Kids Kitchen, create an account by going to www.kidskitchen.ca and select "Camp Robin Hood" as your child's CAMP, select the correct unit for your child (we'll share that info before their first day) and complete your order. A valid credit card is required and charges for your lunch order(s) will be billed to your credit card at the end of each week.
BBQ Cookout: Camp Robin Hood provides a BBQ cookout lunch each Friday. At each cookout, campers receive a hot dog, apple, chips and juice. Vegetarian options are available. Please note that our all-beef hot dogs are not Kosher or Halal. If your child needs an alternative option on these days, please indicate this on your child's health form or contact our office to discuss.
Dietary Restrictions: If you have any special dietary considerations, please indicate them on your child's health form or contact our office to discuss. Our team will follow up as necessary. We've put together an ingredient list of all the food we serve at camp for your reference. Last Updated on August 22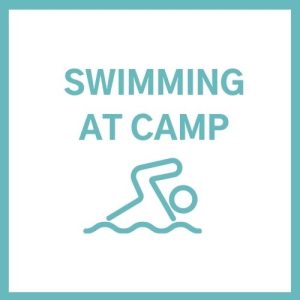 We are very proud of our swim program and our commitment to helping kids increase their comfort in the water. In order to do that, we thank you in advance for completing your camper's swim form to provide us with accurate, up-to-date swim information. 
Here are some important features of our much-loved swim program at Camp Robin Hood:
Our swim staff are certified with current Lifeguard and Instructor qualifications.

We work closely with Eric Shendelman from Shendy's Swim Centre and deliver a Lifesaving Society endorsed 10-level program in addition to our preschool swim curriculum.

All campers at Robin Hood & Sports Academy visit the swim area twice a day.

Participation in swim is considered a compulsory activity. On days where campers choose not to swim or are unable to, they will still be in their swim groups participating in the lesson from the pool deck. We do not offer an alternative activity during swim periods.
Check out this video to learn more about swimming at camp!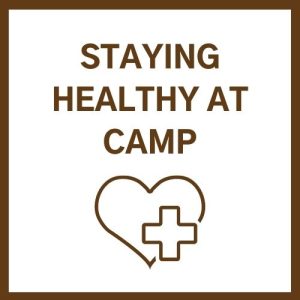 We make health, safety and well-being of our campers and staff a priority! Our Health Centre (AKA 'Robin Aid') is regarded as a benchmark in the camping industry with respect to how camp wellness is delivered. Under the direction of R.N. Bev Unger, our team of registered nurses organize all of our camper health information and deliver care when campers visit Robin Aid. We are so thankful for our wonderful health team for keeping us safe and healthy all summer long! 
For our up-to-date health and safety information, as it relates to COVID-19 protocols for Summer 2022, please visit our Frequently Asked Questions Page.
A reminder about our 2022 vaccination policy: We have communicated consistently in all of our correspondence (pre-registration, in our application process and in our recent newsletters) that Camp Robin Hood will maintain its vaccination policy for all eligible campers 5 years of age and older. Our team have started our verification process, so it is important that you upload proof of your child's vaccination details ASAP.  If you have any questions about this policy, email our owner/director Sari Grossinger at sari@camprobinhood.ca. 
Learn more about our Health Centre by watching this video. We asked Bev her top 5 tips for a healthy and safe summer, and here's what she had to say:
Apply sunscreen in the morning before the bus arrives – rain or shine! 

Leave a labeled sunscreen bottle at camp for re-application during the day.

Read labels! Please do not send food or personal care items that may contain or contain nut products. We want to keep everyone safe.

Wear a hat every day!

Make sure any medication that is required to be taken at camp is sent directly to Robin Aid via the bus counsellor or at drop-off, and please make sure it's in its original container.
Here are some details regarding our important safety policies and protocols we have in place at Camp Robin Hood: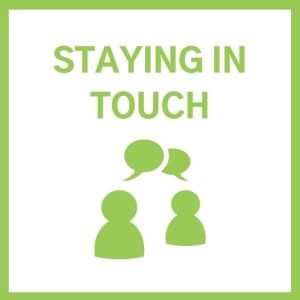 Our 'End of Session' surveys have indicated that one of the things parents most appreciate about Camp Robin Hood is our commitment to timely and effective communication between home and camp. Whether it's direct communication with camp owners, Sari & Howie Grossinger, a member of our office team, an Assistant Director, Division Head or Unit Head, you can count on a professional and timely response to any question or concern you may have.
If you have any questions or concerns about your camper's experience, feel free to call our office at 416-736-4443 or e-mail us at office@camprobinhood.ca. Our office team is awesome and ready to help! If our lines are busy, please leave a message and we will return your call as quickly as possible. Be confident that all inquiries will be addressed by a member of our team best suited to respond.
To ensure a successful camp experience for campers and families, we have layers of supervision built right into our program. Below is an overview of these various staff roles and how they are involved in your camper's daily life at Camp Robin Hood. Prior to your camper's start date, you'll receive an e-mail with their specific cabin group and counsellor names. Visit this link to see which Unit Head, Division Head and Assistant Director are assigned to your child throughout their time at camp.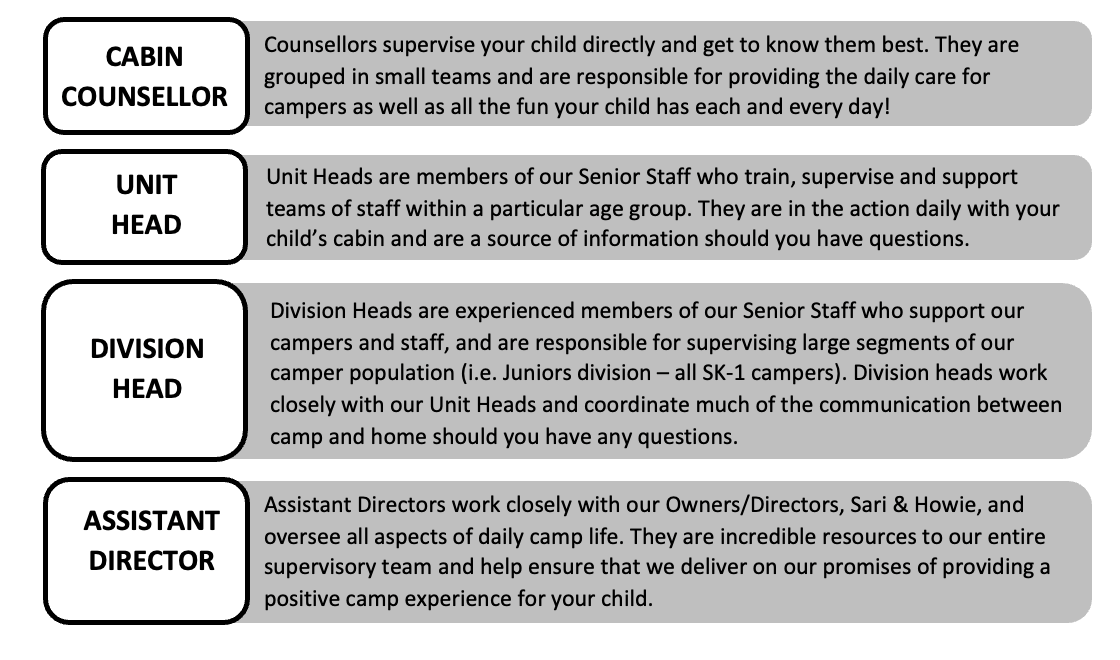 We also have several methods of sharing all kinds of information with our families throughout the summer. Here's what you can expect:
E-mails: On a regular basis, our office will communicate specifically on a number of topics, including special days, cookouts, end of session swim reports, weather updates when needed, etc… Please be sure to check your inbox regularly so that you don't miss an e-mail!
Friday Flyer: This is our weekly newsletter that is e-mailed to you and has great information about the past week, as well as things to look forward to at camp. It has links to photos, videos and all kinds of information that makes you feel as if you were at camp yourself!
Facebook & Instagram: We love using these social media platforms to tell the story of camp each day. Make sure you follow us! We endeavour to post a realistic but limited number of photos each day.
Phone Calls: From time to time we call families directly. Our policy is to always leave a message and we encourage you to listen to that message before calling us back. By doing so, you are able to let our office know who called you and this will speed up our ability to have you talk to the right person.